Learning to Use Memo AI ​
Memo is still in beta
If you need access, please visit memo.ac/code to get an invitation code.
Welcome to follow the relevant developments of MemoAI and learn about the feature updates.
Introduce ​
Welcome to MemoAI. This article will show you all the capabilities of Memo and how to use it.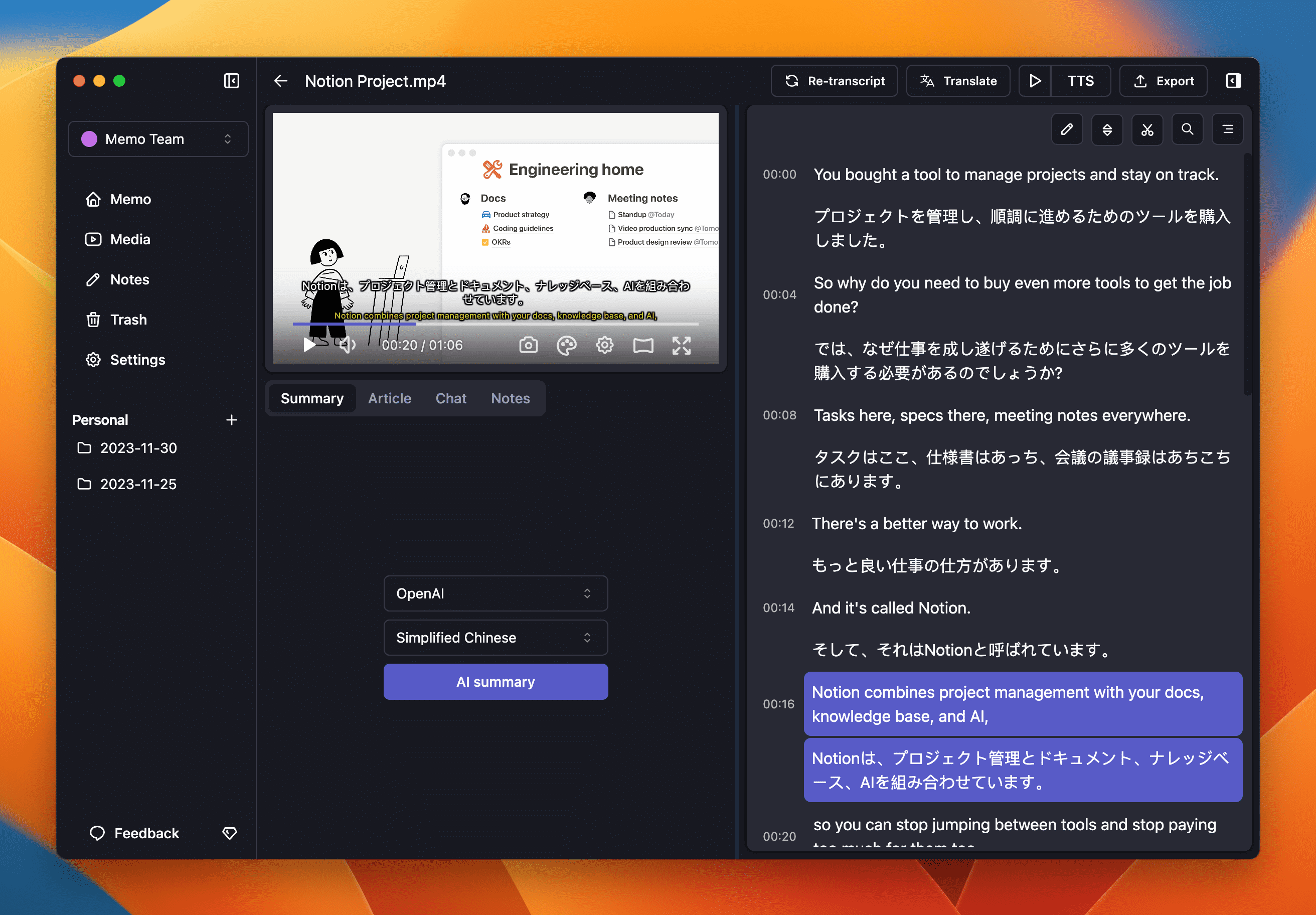 Download and install ​
Links transcribe ​
Memo AI supports the rewriting of links to Youtube and Apple Podcast. Support links youtube.com, xiaoyuzhoufm.com,podcasts.apple.com,podcasts.google.com.
Copy YouTube link or podcast link
Paste into the Memo input box
Click transcribe to start the conversion.
Some problems
If you are in an area where link resolution is not available, please go to Settings - Proxy, then enable the system proxy option.
If your machine has a lower configuration, you won't be able to use models like 'large'.
If there is repeated content during the transcription process, please go to Settings - Lab and enable VAD. This is because there is a significant amount of blank space and noise in the audio that is affecting the AI's reasoning.
For more questions, please visit: https://memo.ac/feedback
Local transcribe ​
Memo local conversion supports MP4, MP3, AAC, M4A and other common audio and video formats, and there is no need to convert the format before uploading to text. Note that there are no special characters in the local conversion name, otherwise Memo cannot be read.
Select subtitle
If you already have local subtitles and just need translation ability, please click to upload subtitles. SRT and VTT formats are currently supported.
AI Translation ​
Before you start AI translation, you need to do some basic configuration. Memo AI supports a number of translation services, such as Google, Microsoft, OpenAI, Volcano engine, Zhisu AI and so on. You need to go to these websites to apply for Key and paste it into Memo to use.
AI translation problem
Try not to leave the current page during AI translation to avoid translation pauses.
If you can't translate, please check the network first, then check if the content is too long, and then check if there is any arrears in Key.
Paragraph translation ​
If the translation is not satisfactory, you can click the line translation option to translate again.
AI TTS ​
Support a variety of speech synthesis, other languages can also listen fluently.
Export text and subtitles ​
Memo Support the export of SRT, VTT and other subtitle formats to help you save the tediousness of manual scrolling. Tools such as Markdown also support export synchronously.